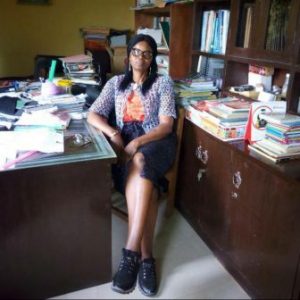 Duola College & Kiddies Academy was established in 2006 as Duola College by Engr. Toriola Sobande. He was a visionary with broad humanity and deep love and tolerance for his fellow men. With this he wanted to give the people of his community impetus towards a formal education.
After the demise of its founder Engr. Sobande, the mantle of leadership was transferred to his beautiful wife Mrs Christy Sobande. Who after taking this task believes that she is just a steward to the business but God is the owner of the business and she proves this by committing every activities of the school to the hands of God and she is seen daily teaching in classes because of her love for teaching. The motto of the school is; "Knowledge is Light"
THE VISION
To see Duola College not as an institution owned by an individual. but as an institution divinely established to meet the educational development of Nigeria. Africa and world youth in collaboration with other stake holders.
THE MISSION
Duola College which was established by divine inspiration is posed to be in the fore-front of educating generation leaders of Nigeria, Africa and the world at large by inculcating in Our Students fear of God the value of dignity of labour, high moral value, self-esteem, high sense of responsibility, and diligence. To see the child who passed through the College as great, eminent and successful individual in any vocation they may choose in fortune, so that you and I can beat our chests and say this is indeed a product of Duola College.
The school is guided by a set of core values that forms the six pillars of the school namely:
Fear of God
Diligence
High moral value
Dedication to serve
Decency, humility and respect Determination
Hard work
Over time the school has grown steadily and it currently accommodates over 150 students representing different tribes. State —of — the art facilities which includes, Two science labs, one computer lab, Home Economics lab, outdoor basketball court, lawn tennis and table tennis, one library, white boards in each classrooms and a – playing field. It has accreditation status with WAEC, NECO and NABTEB.
Students participate extensively in extracurricular activities including outdoor education and educational visit to places like "The Lagos International Trade Fair" at Tafawa Balewa Square, a Pharmaceutical Industry and the prestigious Olumo Rock in Abeokuta.
The students follow both the federal and state curriculum, a carefully structured relevant and child-centered curriculum, covering six areas of learning, which are;
1. Personal, Social and Emotional Development.
2. Communication, Language and Literacy.
3. Problem Solving, Reasoning and Numeracy.
4. Knowledge and understanding of the Word.
5. Physical Development.
6. Creative Development.
With the world going digital the school recently introduced a learning system based on formalised teaching but with the help of electronic resources known as e-learning, also the opening of the school website and portal for the school whereby all activities around the school will be monitored online and the students will be able to check their results online too. Having in mind that we want the students to have a more fun way of learning.
Our well planned activities at Duola College is such that students learn whilst enjoying themselves and feeling challenged. Computer skills are also a major factor of our school.